BEAGLEFEST 2006 PHOTOS
This is an unofficial BeagleFest 2006 photo page. These are photos taken during BeagleFest 2006 held in Santa Rosa, CA from June 1-4, 2006. The theme was "My Sweet Babboo". Photos taken by David Hazen, a few with his Sweet Babboo. Click on images to enlarge.

---





BeagleFest happened during the Summer of Woodstock. Shown are a few of the 76 Woodstock statues that appeared throughout Santa Rosa.
"When you come to Santa Rosa, be sure to wear a Snoopy in your hair..."
---





A few of these were done in the drawing room at the Charles M. Schulz Museum.
---





---





Even the Redwood Ice Arena participated in the Summer of Woodstock as Woodstock skated with Charlie Brown and Snoopy in the "Beagle on Ice" show.
---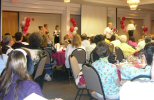 A few photos during the "Romantic Dinner for 200" held on June 3rd.
---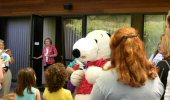 ---





---




---




---




---




---





---





Some photos taken during the "World's Largest Beagle Hug" held after the end of the "Parting is Sweet Babboo Sorrow Brunch" on June 4th.
---
---
Page created June 11, 2006.

---

Back to: Top of page / Home / Photo Links