In Memory of our darling little cat Dale, who passed away on
July 2, 2009 after a brave seven-month battle with kidney disease.
She touched our hearts and we will never forget her, but we are blessed to
have her two daughters to remember her by.
PHOTOS OF DALE'S MOTHER'S DAY CELEBRATION
Here are pictures of Dale's Mother's Day celebration. We adopted her and her daughters (and Adrianna, our black tripod cat) at the Animal Umbrella Cat Adoption held at Calvary Church, United Methodist on Saturday, September 27, 2008. Cocoa and Taco are Dale's daughters and 'gave' Dale her Mother's Day card. Dale was soooooo delighted!! Click on images to enlarge.

---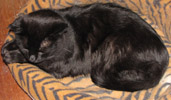 Photos of Dale's daughters Taco and Cocoa and of Adrianna taken May 10, 2009.
---




---




---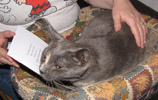 ---




---




---
Photos of Dale opening her Mother's Day card taken May 10, 2009. She loved it!!!
---
Page modifed May 15, 2009.

---

Back to: Top of page / Home / Photo Links / Cats