DON KENT PARK - 07/25/14
I took these photos while on my afternoon walk to Don Kent Park across the street from Wollaston Beach in Quincy, MA on Friday, July 25, 2014. I wanted to check this park out for some time because I remember watching Don Kent do his weather reports on TV when I was growing up. It also turns out that the park is located close to the street where my mother spent a lot of her childhood years. Also, one of my wife's aunts got to meet Don Kent a long time ago. Click on images to enlarge.

---




---





Photos taken in and near Don Kent Park including photos of names of major new England storms that are engraved along the edge of the monument including the 1938 Hurricane (commemorated during a Blue Hills Observatory event in 2013), Hurricane Bob (1991) and the Blizzards of 1978 and 1993. Conspicously absent are the Perfect Storm around Halloween 1991 and Hurricane Gloria (1985).
---



Panorama and photos partially showing the haze that came from wildfires raging in the western parts of Canada and USA. The haze was much less pronounced than the smoky haze I photographed back in 2002.
---




---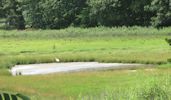 While on my way to and from Don Kent park are photos of a possible comorant or black duck, egrets and a mockingbird in the Blacks Creek/Caddy Park area. Go here for other wildlife photos.
---
Page created July 26, 2014.

---

Back to: Top of page / Home / Photo Links