TURKEYS!
I took these photos of turkeys that Janet and I encountered on May 23 and May 25, 2015. The turkey of May 23rd was photographed in our yard in Quincy, MA. The turkey of May 25th was photographed in the Milton Cemetary in Milton, MA. Because Pentecost was on May 24th, I think dove sightings would have been more a propos. Click on images to enlarge. I also posted this Youtube video.

---






---





May 23, 2015. We named this turkey Tom Brady.
---






---






---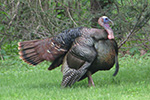 ---







May 25, 2015. We think this is the biggest wild turkey we have ever seen!
---
---
Page created May 26, 2015.

---

Back to: Top of page / Home / Photo Links