FIRST PHOTOS OF MY NEWEST SNAKE: '5'
---
Below are some images of Shermy's and Shirley's newly adopted sssssson named '5'. He is named after an obscure Peanuts comic strip character that appeared in the dancing scene with Shermy in 'A Charlie Brown Christmas'. '5' was obtained at the New England Herpetological Society's Open House on October 14, 2007. Click on image to see larger version.
---




'5' at the herp meeting. He issss ssssssooooo adorable like his uncle Woodstock!!
---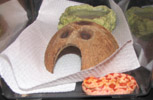 ---





---
---



'5' eats hisssssssss first pinky at home on October 16th. Yummmmm!!
---




---




'5' digesting in hisssssssss new dining room.
---



---




---



---




'5' after supper under the watchful eyes of hisssssssss 'mom' Shirley.
---
Page created October 17, 2007 by David Hazen
---
Back to: Photography / Home