PHOTOS OF JO COOL'S FIRST DAY
---
Below are some images of Woodstock's fiancee Jo Cool on the day I bought her at the New England Herp show in Manchester, NH. Click on image to see larger version.
---


---



Jo Cool at the herp show. Sssshe issss ssssssooooo adorable like her fiance Woodstock!!
---




---


---



Jo Cool eats her first pinky at my place. Yummmmm!!
---



---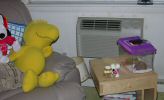 Jo Cool digesting and adjusting to her new ssssssssurroundings in her new cage.
---
Page created April 18, 2005 by David Hazen
---
Back to: Photography / Home