SHIRLEY SHED JUST FOUR DAYS AFTER A BLUE MOON!!!
---
nce in a blue moon do I get to photograph any of our snakes shedding. In this case, I photographed Shirley shedding on 01/03/10, just four days after the New Year's Eve Blue Moon. Please note that Shirley's shed is a closed loop. My wife helped Shirley get out of the loop. Click on image to see larger version.
---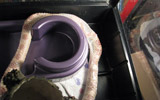 ---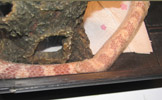 ---




---





---




---




---
Page created January 3, 2010 by David Hazen.
---
Back to: Photography / Home