WE DID OUR OWN SUPER BOWL HALF-TIME SHOW ANYWAY AT WOODSTOCK!!
---
Even though the half time show for the 2005 Super Bowl held Sunday, February 6, 2005 was GREAT starring Paul McCartney's music and awesome fireworks, we did our own half time show anyway because we felt that our favorite team, the New England Patriots needed some rallying. The Pats were tied 7-7 against the Philadelphia Eagles and the Eagles scored the first points of the game with a touchdown. It turned out that our show starring Medusa, Patriots Snoopy, Patriots Woodstock which is NOT to be confused with my Woodstock, worked because the Pats went on to win the game 24-21. An Adam Viniateri field goal was the difference.
Go here to see what we did for our own half time show during the 2004 Super Bowl.
---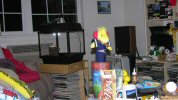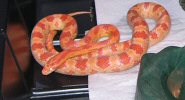 ---





---




---





Woodstock, Patriotssssss Woodstock and Patriotssssss Ssssssnoopy rallying the Pats during the halftime sssssshow
---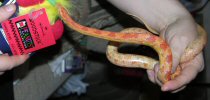 ---



---
Page created February 19, 2005 by David Hazen
---
Back to: Photography / Home