PHOTOS OF JO COOL'S FIRST DATE WITH WOODSTOCK
---
Below are some images of Woodstock's having his first date with Jo Cool on May 27, 2005. Click on image to see larger version.
---
Woodstock playssssss hard to get as he is about to meet Jo Cool!!
---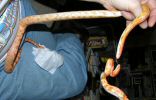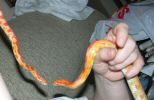 Woodstock finally mustered the courage and meets Jo Cool face to face.
---




---
Woodstock and Jo Cool find out that they love each other.
---


Jo Cool and Woodstock discovers a Reptiles magazine.
"Anything interesssssting for us, Jo?" inquired Woodstock.
"Let me look." replied Jo.
---
"Sssssshall we ssssssshare a meal together, Jo?" asked Woodstock.
"Sssssssure, Woodstock! That lookssss ssssssooooo yummy!!" replied Jo.
---
"Thesssse pagesssss alssssso look interesting, Jo." said Woodstock.
---



"What do we want to do on our next date, Woodstock?" inquired Jo.
---
The date ends with Jo and Woodstock being held by their owner.
---
Page created May 30, 2005 and modified June 6, 2005 by David Hazen
---
Back to: Photography / Home